Welcome to my new blog!
I have always basked in the glory of Autumn and the sights, smells, and flavors that go along with it. It always seems to me that Autumnal food is equivilant to a cozy blanket or fuzzy socks, familiar and comforting. It's usually the smell that hits you first, warm and spicy, rich and sweet. Whether it's a bowl of sausage and potato soup or a slice of moist pumpkin bread the delicacies of Fall are able to calm and caress the worries of the world away, if only for moment.
I am always prowling through book stores and cruising the internet looking for new fall recipes. Sometimes I want something completly different than I've ever had before. Other times I'm looking for a new twist on a traditional dish. Either way it seems I'm always hopping from one place to the next, recipe cards scattered around me, pages of websites bookmarked. I have more recipes than I have time to bake them!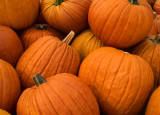 Here at Pumpkin Tart you will find many of my recipes full of the bucolic essence of Autumn. Some recipes will be of my creation, some will be old family recipes or taken from the pages of favorite cookbooks and hopefully some will be from readers like you. If you find that I harbor some nepotism towards recipes that include my beloved pumpkin, please don't hold it against me. With a flavor as versatile and delicious as the famous gourds' who can blame me?
In honor of my new blog I thought we would start with the site's namesake.
Pumpkin Tart
Tart Shell
3 oz (3/4 stick) unsalted butter, cut into 6 pieces
1/4 cup sugar
2 extra-large egg yolks
1 cup all-purpose flour
In a bowl, cream the butter and sugar with a mixer on medium speed until smooth. About 3 minutes. Add the egg yolks and mix until well blended. Add the flour and mix again until blended. Remove from bowl and press the dough into a thick disk. Wrap in plastic and refrigerate until firm but malleable, at least 1 hour.
Once chilled, sprinkle your work surface and the top of the disk with about 1-1/2 tablespoons flour. Roll the dough into an even 1/8-inch-thick circle with a 12-inch diameter.
Fold the dough in half, center it in a 9-inch tart pan, and unfold. Using your fingers, gently fit the dough into the sides of pan. Trim the excess dough on the sides so it is even with the top of the pan.
Cover the shell with plastic wrap and refrigerate for at least 30 minutes (but no more than 8 hours) before filling and baking.
When ready to partially pre-bake your tart shell, preheat the oven to 350 degrees.
Line the bottom of the tart shell with aluminum foil making sure the sides of shell is still exposed. Weigh down with pie weights or dried beans. Bake the shell for 20 minutes. Remove foil and weights. Continue baking for another 5 minutes. Remove from oven and cool for at least 30 minutes before adding the filling.
Filling
1/2 cup sugar
1/4 cup packed brown sugar
2 eggs, plus 1 yolk
3/4 cup heavy cream
1 cup (15 oz) Pumpkin Puree
2 Tbl Pure Maple syrup
1 teaspoon Pumpkin Pie Spice
*
1/8 teaspoon ground ginger
1 tablespoon all-purpose flour
* Pumpkin Pie spice can be substituted with 1/2 tsp cinnamon, 1/4 tsp allspice, 1/4 tsp nutmeg, and 1/8 tsp ground cloves.
Preheat oven to 425 degrees. Combine all ingredients in medium bowl. Whisk or beat well to dissolve the sugars. Pour into crust. Bake on middle rack for 15 minutes. Turn down the oven temperature to 350 degrees and continue baking for another 30-40 minutes, or until a knife inserted near middle of pie comes out clean. Cool and chill until ready to serve.