Rice pudding is one of those universal dishes that nearly every culture has left a mark on. From China to Brazil and Sweden to Pakistan, rice pudding is enjoyed in areas all over the globe. You can find it flavored with rosewater in Egypt and orange peel in Italy. The flavors vary but the concept is the same. This is one of my favorite variations of rice pudding, made with maple and brown sugar.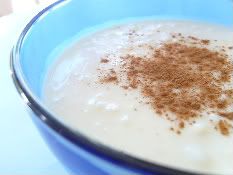 Maple Rice Pudding
3/4 cup white rice
2 3/4 cups cups whole milk
1/3 cup brown sugar, packed
1/3 cup maple syrup
1 egg, beaten
1 tablespoon butter
1/4 teaspoon cinnamon
1/4 teaspoon nutmeg
1/8 teaspoon salt (a pinch)
In a large saucepan bring water, milk and rice to a boil over medium-high heat, stirring frequently until rice is tender (about 25 minutes). In a small bowl beat the egg, brown sugar and maple syrup. Temper the egg mixture by slowly adding two tablespoons of warm, rice mixture to the egg mixture and then add it all back to pan. Add spices and butter and simmer mixture on low heat for another 10 minutes or until thickened. Can be served warm right away or after chilled in refrigerator.
For more information about types of rice visit BigOven.com at the link below.