Reading is a passion of mine and I don't descriminate against any genre. Historical narratives, classic literature or socio-linguistics, it doesn't matter to me. I can derive some knowledge or pleasure out of just about anything on a page. One of my favorite things to read though are cookbooks. I sit in bed and read them like others might read a mystery novel, I scan their contents at breakfast where someone else would read the paper. I start at the introduction and read each recipe all the way through to the index at the back of the book. Reading recipes can be a calming, if not tempting pastime. I'm sure I'm not the only one out there who reads cookbooks not necessarily looking for a recipe but for the shear enjoyment of it. I'm guessing there has to be at least one other person out who does this as well. That thought got me thinking aout cookbooks in general so I started doing some research and came up with some pretty interesting facts...
The first cookbook by an American for the American palate (earlier works were of old, standard British recipes)was
American Cookery
by Amelia Simmons in 1796. Actually the full title of the book is:
American Cookery, or the art of dressing viands, fish, poultry, and vegetables, and the best modes of making pastes, puffs, pies, tarts, puddings, custards, and preserves, and all kinds of cakes, from the imperial plum to plain cake: Adapted to this country, and all grades of life
, but let's just call it
American Cookery
from here on out. The book was rather popular and was in continuous publication for over 30 years, with over 13 known editions. The masterpiece was even plagiarized by being copied word for word and given a new title
New England Cookery
by Lucy Emerson in 1808. In 1996 a Bicentennial edition of the cookbook was reprinted with the inclusion of historical notes stories by culinary historian Karen Hess.
Ms. Simmons' original publication included indigenous vegetables, fruits, game, grain and herbs. Squash, cranberries, turkey, and corn were not items commonly found in the British Isles but were quite plentiful on US soil. In fact Amelia Simmons' work includes the first known pairing of turkey and cranberry sauce. Many of our Thanksgiving meals and post Thanksgiving sandwiches can be attributed to
American Cookery
. The tome also showcases the first application of cornmeal in print, in a recipe for Johnny Cakes. We can also attribute the popular use of chemical leavening in dough to Ms. Simmons through her use of pearlash, the predecessor to baking powder.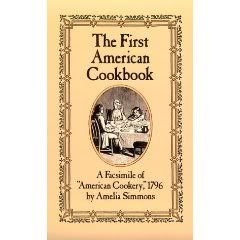 Cookbooks are a glimpse into the culture and society of it's time as a time capsule might be. In
American Cookery
some of the recipe titles are indicative of the chaotic struggles of a budding nature. Election Cake, Independence Cake and Federal Pancakes offer us an insight to the patriotism that flourished in Amelia Simmons day.
The Joy of Cooking
, first published in 1931 provided the depression era reader useful tips on cooking with squirrel, racoon and possum. In 1969, then editor-in-chief of Cosmopolitan magazine, Helen Gurley Brown published
The Single Girl's Cookbook
. It evoked a new type of home cook, not the harried housewife with kids whirling around her and a hungry husband to please, but a single, adult woman who had disposable income and time that was all her own. A book full of recipes encompassed the women's lib movement in a simple title.
The cookbooks of today often include the name of a "
celebrity chef
" with a recognizable face in the title or the latest diet craze as the catch. I actually prefer the
Gooseberry Patch
line of cookbooks. The recipes are sent in from cooks all over the country and the books include stories and tips for decorating. In fact I was partially inspired to write this blog by the
Gooseberry Patch
books. Hey who knows maybe someday this web page will be considered an innovative culinary selection? Nah.
-Andrea
Here is a recipe in honor of Amelia Simmons' original pairing of Turkey with cranberry sauce. It comes from Gooseberry Patch Autumn in the Country.
Apple and Turkey Sandwiches
2 Tablespoons Cranberry sauce
2 Tablespoons Mayonnaise
8 slices sourdough bread
1 lb deli turkey, sliced thin
1 Granny Smith apple,
cored, peeled and thinly sliced
1 cup shredded Cheddar cheese
Mix together cranberry sauce and mayo; spread evenly over bread slices. Arrange bread on an ungreased
cookie sheet
. Divide turkey evenly amongst the bread. top turkey with apple slice; sprinkle with cheese. Broil until cheese is melted and golden.
View the Gooseberry Patch blog here ==>
LINK