Last night while rattling around in my house I found myself in need of some comfort. Being an emotional eater I naturally headed to the kitchen. It's siren song beckoned me to come and bask in the warmth of it's fluorescent lights and ceramic tiled back-splash. Never being one to resist a culinary embrace, I floated in and began to rummage through cabinets, the pantry and refrigerator. I found absolutely nothing that yielded properties that could soothe my soul, so I decided to make some comfort of my own.
Comfort food is blanket term that encompasses almost anything you can imagine. It's personal and entirely different for each individual. Mashed potatoes and brownies, Pop Tarts and Twinkies, and couscous and hummus are all comfort foods for someone out there. These dishes harken back to a time when life was simpler, sweeter and safer. They draw on your past and reconnect you with old emotions that have long since buried. Comfort Food is like therapy on a plate.
My comfort food of choice last night was Pumpkin Bread. It was never something I had as a kid, my mom never made it, it was never served in my school cafeteria. It's origins in my life date back to when I was 19 and had just moved out of my parent's house into my very own apartment. Once I had unpacked most of my boxes I realized that there was no food in kitchen. Being on my own for the first time I was excited at the prospect of doing my own grocery shopping so I headed out to the nearest super market. Carousing through the aisles I came upon a small recipe booklet brought to you by the good people of Bisquick. I flipped through it, hoping it would offer some suggestions of what kind of food a person should stock their kitchen with. I eventually spied a recipe for pumpkin bread. Scanning the ingredients I was immediately intrigued. It contained only basic items like pumpkin, eggs and sugar. I always loved pumpkin pie and banana bread for breakfast made my mornings brighter, so pumpkin bread had the potential to be something I might really enjoy.
Once I returned home, I unloaded my groceries and immediately began mixing,baking, and christening my virgin kitchen in one fell swoop. The kitchen began to fill with a spicy aroma and I waited with bated breath for it to finish baking. When the bread was finally baked,cooled and sliced, I bit into that first piece and my taste-buds were singing! Nothing could have tasted better to me. I've come to realize that it was because this was something I made with MY own ingredients, from MY "own" recipe, in MY own pan, served on MY own plate, in MY own apartment! This was MY pumpkin bread and nothing had ever tasted so delicious.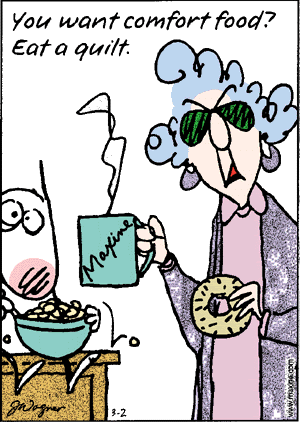 Years have passed since that night and I have acquired many other pumpkin bread recipes but I always go back to that old Bisquick one. To me that recipe represents freedom, independence, and the fact that I don't need to rely on someone else for my own needs or happiness. That recipe brought to me the strength and courage I needed to make it on my own. Last night when I tasted the warm, spicy, wonderfulness of that first slice out of the oven, all of those feelings and emotions came flooding back and I knew it would all be ok. In my comfort food, I found exactly that.-Andrea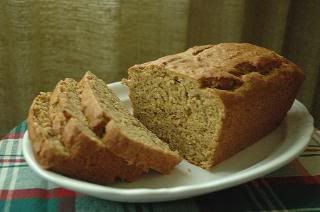 Pumpkin Bread
1/3 cup vegetable oil
1 cup canned pumpkin
3 eggs
2 1/3 cups Bisquick Original Baking Mix
1 1/4 cups of sugar
1 teaspoon cinnamon
Preheat oven to 350 degrees. Greast bottom of loaf pan. Stir all ingrdients together until moistened and beat vigorously for 1 minute. Bake 45-55 minutes or until toothpick inserted in middle comes out clean. Cool 5 minutes. Run knife around side of loaf to loosen;transfer from pan to wire rack. Cool completely.